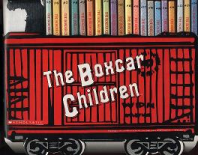 Starting On Dec 3,2009 is the Next Adventures of the Boxcar children:The NEW adventures of the Boxcar Children.This series takes off right where the series ended.In Season 1,only 3/4 appear,Benny,Henery,And Violet.Later,in Book/episode 7 titled:The 4th Boxcar(counting off jessie) an all new character Nick appears.Then,in episode 4,The 5th Boxcar,jessie appears and wiill be there thourghout the series.The creator of the New adventures of the Boxcar Children confirmed:
There will Be At least 150 episodes,62 specials,and 2 movies.the series finale is:The New Boxcar Children Movie.usally,in the series finale movie with the word
NEW
in it is because the 1st movie is called The Adventure Boxcar:locoation:Australlia.So,Tune in Dec 2 for a sneek peek of Episode 1:The Missing Henery.
Ad blocker interference detected!
Wikia is a free-to-use site that makes money from advertising. We have a modified experience for viewers using ad blockers

Wikia is not accessible if you've made further modifications. Remove the custom ad blocker rule(s) and the page will load as expected.